I have not been very good about keeping up with this blogging thing. I am now at a one post per month pace. I hope to post more in 2012, but I'm not making any promises that I will more than likely break. December is a busy month! We celebrated Christmas here with my parents, Gabe's family and Gabe's Grandma. There will be a Christmas post to come... soon... I hope... but for now I will tell you about Michael's new accomplishments/milestones...
According to our scale he now weighs 22 lbs and looks to be about 28 inches long. He is passing up many 1 year olds that we know.
He is sleeping pretty consistently from 8:30pm-7:00am and he takes 2 nap 1hr-2hr naps during the day, one at 10:30 and one at 3:30.
He is crawling everywhere, pulling up on everything and walking while holding on to stuff.
He can give high fives.
He is starting to ham it up a little for the camera (see below).
He dances all the time. Anytime there is music, singing, clapping, etc it is as though he can't help himself, the music takes over and he just can't help but rocks back and forth to the beat. It is pretty cute. This may be due to playing a lot of "Just Dance" on the Wii while I was pregnant.
He tolerates pretty much any food (so far), but rocks back and forth when he is eating something he really likes. (His dad did this too when he was a wee one, which is kind of strange. Is there a happy food dance gene?)
He will roll the ball to Hugo (brother dog) and Sadie (his auntie dog)
He loves... doggies, his grandparents, his uncles and aunties, puffs, carrot souffle (discovered this on Christmas), eating, talking Carl (its an app), his talking bear, any toy that he can stand up to play with, his mommy and daddy, music, dancing, and baths.
That's all I can think of at the moment. Everyday his personality comes out a little more. It is a joy to go into his room after a nap and see his little smiling face. His curiosity and unabashed emotions are a wonder to watch. He is a precious gift from above and I am so grateful that I get to be his momma. We love you Mr. Michael!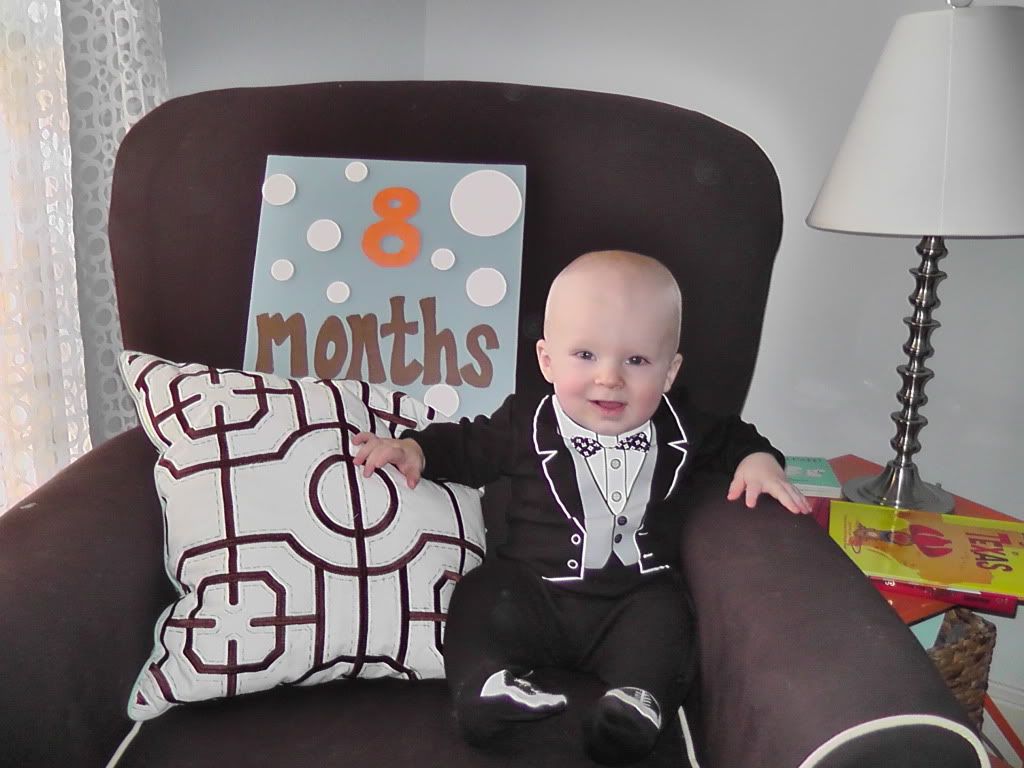 Here he is hamming it up for the camera...